A message from our Honorary Playing Captain Trent Copeland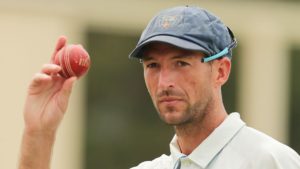 Hi everyone, hope all of you have survived the COVID-world we've all lived in this past eight or so months. It certainly has changed the way we live – but hopefully in turn made us incredibly grateful for the things we do have, and to hone in on those.
Thank you to everyone for your ongoing support. As far as the summer is concerned, we are just finishing up the Sheffield Shield 'bubble' in Adelaide where we've had some great results, including an unbelievable win against QLD.
Next up for me it's SEVEN coverage of the WBBL, Test matches against India – where I will be on the touchscreen again – and some BBL commentary. On top of all of that, Kim and I are expecting our first child at the end of this month! Exciting times.
Stay safe, enjoy the summer, and go the Aussies (and Blues!).
Trent Copeland
Trent recently claimed 5/17 off 18 overs during New South Wales' thrilling one-wicket victory over Queensland in the Sheffield Shield.
1 October 2020